Also known by its Roman name Apulia, the Puglia region stretches from the Gargano peninsula to the heel of Italy's boot. Apulia is famous for its whitewashed hill towns, centuries-old horticultural farmland and hundreds of kilometers of beautiful Mediterranean coastline. The region boasts an untouched gently undulating plateaux with forests, medieval pilgrimage towns, massive fortresses and fortress-like churches. With gorgeous beaches, forests, historical sites and wonderful wine, Puglia's fairy like holidays are second to none. The capital Bari is a vibrant port and university town, while Lecce is known as "Florence of the South" for its baroque architecture.
Puglia, a southern region forming the heel of Italy's "boot", boasts beautiful beaches, golden sands, pine forests, undulating countryside with groves of olive and almond, and fantastic food. Although the region appears exclusively Italian, it has a rich cosmopolitan past with Greeks, Germans, Spaniards, Moors and Normans having bequeathed a delightful combination of architectural heirlooms including baroque churches and Romanesque cathedrals.
Typical Local Food and Wine
There are plenty of culinary specialties that can be found in Puglia, one of the richest Italian regions even from from a historical and landscape point of view, of which the best known example is Salento, a holiday destination that has been in vogue in the past few years. In addition to typical products, used in food for their quality and for unique taste, there are also numerous fine wines produced in Puglia, a region whose wine cultivation represents one of its most important economic resources, thanks to the mild, sunny Mediterranean climate. Among the most famous, you can find the much-appreciated Primitivo di Manduria DOCG.
Typical dishes: Mint Omelette, Cappello, Bari onion calzone, Ncapriata, Orecchiette, Braciole, Alici "arracanate", Tarallo al naspro, Carnival Focaccia, Salted Apulia Pettole, Sweet Taralli wine, Purcidduzzi, Salento Pasticciotto.
Local Wine: Primitivo di Manduria, Castel del Monte Nero di Troia riserva, Castel del Monte Rosso riserva, Castel del Monte Bombino Nero, Salento Salice.
Alberobello – Discover The Historical Trulli Pinnacles
The historic city center of Alberobello is a Unesco World Heritage site. Alberobello is a small town and commune of the Metropolitan City of Bari, Apulia, southern Italy. With about 10,700 inhabitants Alberobello is famous for its unique trulli buildings. It is dominated by more than 1500 trulli: traditional Puglian buildings with conical stone roofs, built without mortar. They are still used as homes, restaurants, shops or tourist accommodations. You will visit the two historical Trulli districts: Aia Piccola and Monti. If desired, you can also visit the Trullo Sovrano. This unique two-storey trullo was converted into a museum and will give you a unique insight into the interior of trullo living quarters. There is a tour with an expert driver/escort to help you experience Alberobello's trulli. Alberobello's trulli, the traditional conical-roofed stone houses, are among the most important monuments of southern Italy. You start your tour from the Aia Piccola while exploring the Unesco World Heritage Site, which is the warm heart of the city. Come visit the trulli and enjoy the view from some of their roof terraces. The local museum is located in the Trullo Sovrano, where you can admire the typical décor of the 1900s. It is an experience strolling along the narrow streets and choosing the perfect photo motive. You can visit the ancient church of St. Anthony and some of the local craft shops. We will also arrange a divine wine and food tasting experience for you.
Day Tour to Castel Del Monte and Trani
Castel del Monte is a 13th-century citadel and castle situated on a hill in Andria in the Apulia region of southeast Italy. Built by the eclectic Swabian Emperor Frederick II. It is another UNESCO site. The castle stands lonely on a hill near Andris. The castle was built directly on a rocky bank, cropping out in some places, and is well known for its distinctive octagonal shape. Eight octagonal towers are inserted on each of the eight corners, along with other features of the castle, this has fueled countless theories about its real function.
The tour continues with Andria (always faithful to Fredrick II as it is written on St. Andrew's gate), the cathedral, St. Augustine church built by the Knights Templar. At the end of the itinerary, we will visit Trani and its stunning cathedral, dedicated to St. Nicola Pellegrino, that overlooks the sea, one of the finest examples of Apulian Romanesque architecture, the Swabian castle, its interesting city center with the Jewish heritage, the picturesque port with several fish restaurants.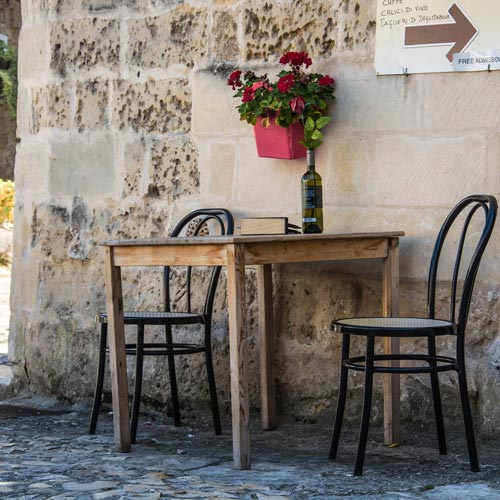 Matera and the Caves Day Tour
Matera is a city and a province in the region of Basilicata, in Southern Italy. It is the capital of the province of Matera and the capital of Basilicata from 1663 to 1806. The town lies in a small canyon carved out by the Gravina. Matera has been on the UNESCO World Heritage List since 1993. It is planned that in 2019 the title "European Capital of Culture" will be awarded to this beautiful town.
This city is famous for its cave dwellings, the so-called Sassi. Over 15000 inhabitants of Matera once lived in about 3000 cave rooms.
This city is situated on a ridge with vast deep canyons to either side. You can walk from the Sasso Caveoso to the Sasso Barisano (the two main cave districts of the city) and fully enjoy Matera's beauty.
Half-Day Tour to Martina Franca
Martina Franca is one of the most vital cities of the Itria Valley, the area is known for its stone houses with conical roofs, called trulli. Martina Franca or only Martina is a municipality in the province of Taranto, Apulia, Italy. Martina is the second most populated town in the province after Taranto. You can visit the city center of this lively city with its typical baroque palaces and churches, the sumptuous Ducal Palace with its rooms adorned with frescoes and its folk traditions museum. On our tour we will discover the legend of St. Martin's cloak and the beggar. We recommend a tasting of the local delicacies like the Capocollo di Martina (similar to a smoked ham) and some local salami.
At the end of the tour you could also visit Cisternino: a picturesque hamlet awarded with the Orange Flag in recognition for the quality of tourism and the environment in small inland towns given by the Italian Touring Club. Cisternino is definitely worth a visit. Take a stroll through the narrow streets and admire its whitewashed houses, see the clock tower and the parish church with one of the most prestigious Apulian renaissance sculpture available: the Madonna of the Goldfinch.
Half-Day Tour to Locorotondo
Locorotondo is a town and comune of the Metropolitan City of Bari, Apulia, southern Italy, with a population of about 14,000.In addition to the city tour, we highly recommend a visit.
The old town is circular and perched on the top of a hill. It's a whitewashed maze of little lanes lined with beautiful historical buildings, some of which retain the original baroque archways and interesting architectural details. The area is also known for another unusual type of building: the cummerse.
These are houses with pointed gable roofs which are typical in this area. You'll see whitewashed examples of these in Locorotondo's tightly-packed old town. It is a pretty centre, with flower pots ornamenting external stone staircases and balconies. Piazza Vittorio Emanuele, at the top of the hill is the nearest point of attraction to a busy hub in the old town. There is a little park opposite the church, with views over the below countryside. One of the most notable churches in Locorotondo an attractive Romanesque Chiesa della Madonna della Greca, dates back to the twelfth or thirteenth century, characterized by a central rose window.
Polignano a Mare Half-Day Tour
Polignano a Mare is a popular town and comune in the Metropolitan City of Bari, Apulia, southern Italy, located right next to the Adriatic Sea. The local economy mostly depends on tourism, agriculture and fishing. Polignano a Mare is the hometown to the "Volare" composer Domenico Modugno. It is a beautiful place with a splendid scenery as well as the perfect place to have a delicious meal. This pretty seaside town sits on the edge of a short stretch of cliffs 20 minutes' drive south of Bari. The location is a lovely enough sight, but the main reason to come here is for the fabulous seafood.
We recommend you taste the "caffè speciale". Mario Campanello, known as the "Super Mago del Gelato" (The Ice Cream Man) created the original "caffè speciale", made with espresso coffee, lemon peel, whipped cream and sweet almonds liqueur. Your Italy, for your enjoyment will organize a visit of Peppino Campanella's Artist Designer studio. Every aspect of his design creation process is manual and, therefore, unique. The technique consists of illuminating a sculpted glass mosaic, and creating beautiful individual objects of light. His lamp sculptures are born on a spectacular terrace on a seaside cliff overlooking the Lama Monachile, used as a laboratory and atelier. Here, art is alive and continues to change, as does the nature that creates the setting for Peppino's art.
There you find our hotel collection. More accommodation available on request.
5 star – Fasano
Set in an extensive hillside estate 1.5km from the coast, Masseria Torre Maizza is beautifully restored 16th century garrison. This sophisticated hotel has a Puglia-style exterior and is an 11-minute walk from Fasano train station featuring striking rooms have free Wi-Fi, desks, flat-screen TVs and furnished terraces.
Find out more →
4 star – Fasano (Torre Canne)
Canne Bianche Lifestyle & Hotel is set right on the seafront in Torre Canne, located in a beautifully whitewashed beachfront lodging in Puglia, contemporary and stylish Featuring neutral tones, the stately rooms and suites have flat-screen TVs, minibars and free Wi-Fi, plus balconies or patios.
Find out more →
5 star – Brindisi
Located among Puglia's olive groves in Savelletri di Fasano, a few hundred metres from the coast, the Borgo Egnazia is a splendid upscale luxury retreat. The elegant rooms and suites feature terraces or gardens and have flat-screens concealed behind sliding walls.
Find out more →